Get Derby ready with some history, the Derby Day schedule
and a yummy snack everyone will love!
On May 17th, 1875, the racetrack opened its gates and the Louisville Jockey Club sponsored the very first Kentucky Derby. A total of fifteen three-year-old Thoroughbred horses raced one and a half miles in front of a cheering crowd of approximately 10,000 spectators. In 2018 more than 157,000 people attended the Kentucky Derby at Churchill Downs, marking the eighth-highest attendance total in the race's history.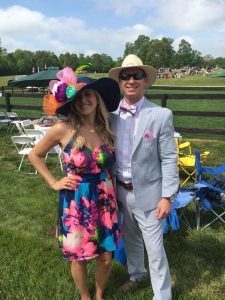 Dr. Jennifer Wells and her husband Zach attended the Queens Cup in Charlotte in 2016!
Below is the 2019 Derby Day Schedule!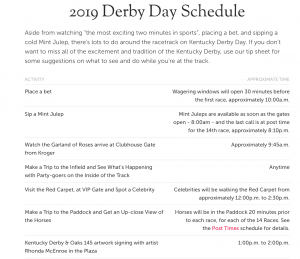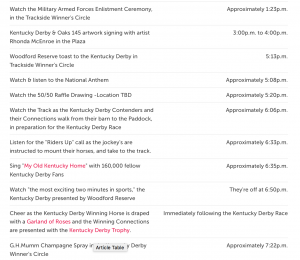 Of course there will be FOOD!
Burbon Bacon Chex Mix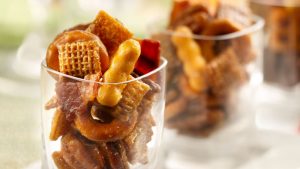 Ingredients
1 bag (15 oz) Chex Mix® traditional snack mix
1/2 lb bacon (6 to 8 slices), crisply cooked and crumbled
1/2 cup packed brown sugar
3/4 teaspoon chipotle chili powder
1. Heat oven to 300°F. Line two 15x10x1-inch pans with foil. Spray foil with cooking spray. In large bowl, mix snack mix, pecans and bacon. Set aside.

2. In 2-quart saucepan, heat brown sugar, butter and corn syrup over medium heat, stirring occasionally, until bubbly around edges. Cook 5 minutes, stirring occasionally; remove from heat. Cool 2 minutes. Carefully stir in bourbon and chipotle chili powder. Pour over snack mixture; toss until evenly coated.

3. Spread snack mixture on pans. Bake 15 minutes, stirring every 5 minutes, to caramelize mixture. Cool completely, about 1 hour. Break into pieces. Store covered in refrigerator.