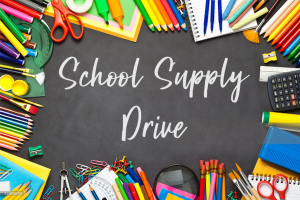 What better way to start the summer with a school supply drive.
I know some of us don't want to think about school yet or school supplies but it's for a good cause!
Join us in supporting our Kannapolis Police Department and Kannapolis City Schools school supply drive! We are accepting the following items now until August 1st.
Appreciated items: Pens – Pencils – Colored Pencils – Glue Sticks – Binders – Pocket Folders – Paper – Backpacks – Lunch Bags – Notebooks – Pencil Cases  Crayons – Tissues & Hand Sanitizer – Highlighters – Scissors – Water Bottles
Please drop your items off at our office anytime Monday-Thursday 8-4:30pm. (1408 South Main Street Kannapolis, NC 28027)