For Optimal Smile Comfort, Functionality, and Aesthetic in Kannapolis, NC
If you aren't satisfied with your smile because of tooth damage or decay, we encourage you to come in for a smile assessment with Dr. Wells. You can save or replace your teeth with restorative dentistry at First Impressions.
Dental Crowns
For one or two damaged teeth, dental crowns can fortify and improve your smile. Dental crowns can repair:
Cracks.
Chips.
Decay.
Discoloration.
Poor shape or size.
Dental crowns will reshape the teeth and strengthen the smile. They will protect your smile from further damage so that you can chew and speak without worry. Rest assured that your dental crowns will last for ten years or longer if you take good care of them!
You can protect weak teeth from pain and tooth loss with our quality dental crowns.
Dental Bridges
If you have gaps in your smile due to missing teeth or if your teeth are severely damaged and require extraction, you can replace those teeth with a dental bridge.
Patients who are missing teeth know that it is almost impossible to chew comfortably with tender gums. When you replace your teeth, you can eat your favorite foods again. You can also smile and speak with confidence.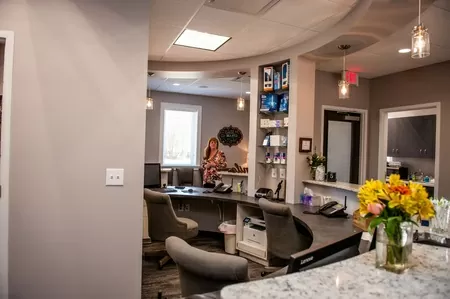 A dental bridge consists of two dental crowns and a pontic (the replacement tooth or teeth). The bridge is anchored by the crowns, which are placed over the natural teeth on either side of the gap.
You may also be interested in a dental bridge secured by dental implants instead of dental crowns. Either option can look and feel remarkably natural.
You can reverse the effects of disease or damage with our durable dental bridges.
Feel Proud of Your Smile Again at First Impressions!
Discover more about your restorative options by visiting our welcoming dental practice. Dr. Wells would be happy to get to know you and ask you about your smile goals.
Even if your smile has suffered from serious damage, you deserve to feel proud of your beautiful grin again! Call our office to schedule your appointment today!
[rev_slider alias="crowns"]