The Perfect Solution for Less-than-Perfect Teeth is Dental Veneers in Kannapolis, NC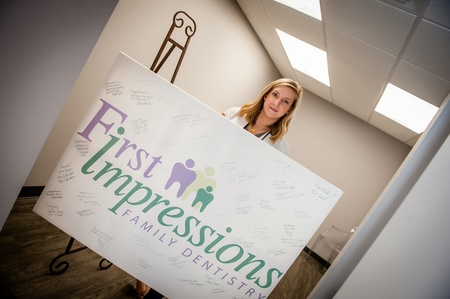 Are your teeth chipped or cracked? Is staining or discoloration making you want to hide your smile?
Any kind of cosmetic dental flaw can make you feel self-conscious about your appearance. You should never feel nervous about your smile's aesthetic appeal. The solution is simple at First Impressions.
Resolve Smile Flaws with Dental Veneers!
Ask Dr. Wells about dental veneers. We want to help you achieve that flawless, confident smile that will change the way you interact with others. A beautiful smile can even change the way you envision yourself and your potential!
Porcelain veneers are a great solution for many kinds of smile flaws. Veneers are ultra-thin porcelain shells that are bonded to the fronts of teeth that are:
Chipped.
Broken.
Discolored.
Stained.
Dull.
If you are unhappy with the shape or size of your teeth, veneers can help with that too. Porcelain veneers are also called "instant orthodontics" because they can sometimes adjust gaps between the teeth and other minor misalignment problems.
Why Choose Dental Veneers?
Not only are dental veneers versatile, they are also conservative. Dr. Wells will remove as little tooth structure as possible to accommodate your new veneers. Veneers may only take two appointments before you've accomplished your smile goals!
Our dental veneers are custom-made to suit you and to ensure ultimate aesthetic appeal. They will blend in beautifully with the rest of your natural smile. Although everyone will notice your beautiful grin, no one will be able to differentiate between your porcelain veneers and your own teeth!
Another porcelain veneers benefit is their durability. Veneers can last for around ten years when you brush, floss, and visit your dentist regularly. They add strength to your natural tooth, and are resistant against chipping and staining.
Renew Your Smile at First Impressions!
Are dental veneers the right solution for you? The best way to find out is with a consultation at First Impressions. Dr. Wells will help you determine which cosmetic procedure will help you achieve your smile goals.
We would love to hear from you. Feel free to call our office today!