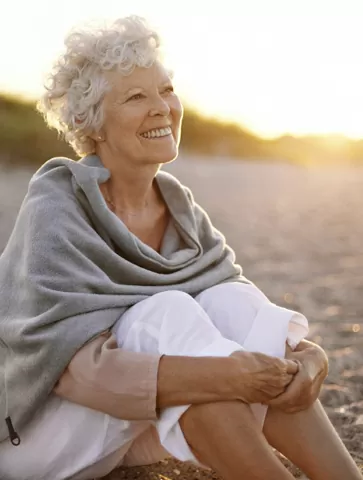 If trauma, decay, or disease has resulted in extensive tooth loss, the solution is waiting for you at First Impressions. You can receive conventional or implant-supported dentures and regain the power to chew and speak with ease again.
Conventional Dentures in Kannapolis, NC
Do you need to restore a full arch of teeth? You may benefit from our complete and customized traditional dentures.
Conventional dentures include a pink base and a set of lifelike replacement teeth. The base and teeth will be carefully crafted to match your natural smile.
The base of your conventional dentures will form a seal with the gums. The dentures can give you a strong bite, proper speaking patterns, and an appealing smile.
Patients who are missing a few teeth will only need partial dentures. These dentures can be secured to the surrounding healthy teeth or to dental implants placed beneath the gumline.
Implant-Supported Dentures in Kannapolis, NC
Implant-supported dentures provide maximum security and comfort. These dentures are attached to dental implants, which are small titanium rods that are placed surgically into the jawbone.
Our patients appreciate the many benefits of implant-supported dentures. Dental implants stimulate the jawbone to keep the mouth healthy and functional. Implant-supported dentures are consistently stable and reliable, just like real teeth.
Other Restorative Options
No matter what your dental needs may be, we hope we can become your family's favorite one-stop shop for all kinds of dentistry. From dental crowns, to porcelain veneers, to dentures, we have your smile covered. You have so many options here at First Impressions, and we will work closely with you to determine the best option to meet your unique needs.
Regain a Complete Smile Here at First Impressions!
Dentures are a great long-term tooth replacement solution for patients who want to benefit from a complete smile again. Call to schedule your appointment today at First Impressions with Dr. Wells!